COVID-19 Self Reporting Form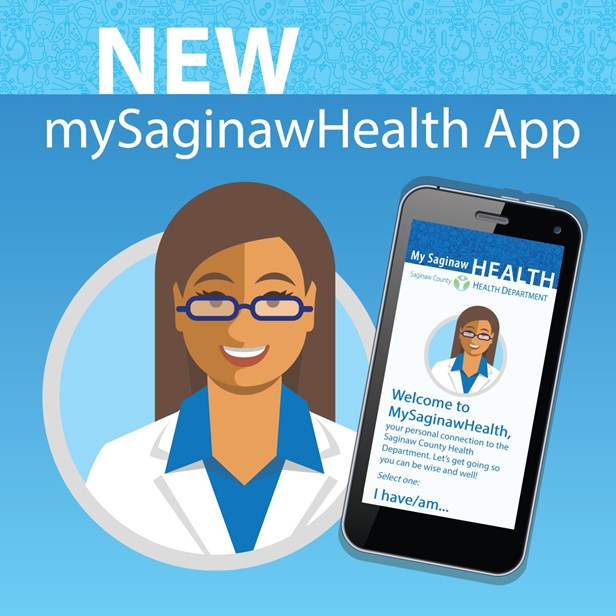 We have launched our web-based COVID-19 self-reporting app  at mySaginawHealth.org. The app enables residents to confidentially provide personal information online and avoid a phone call from the health department to complete their COVID-19 case investigation. 
 
Here is how it works:
The app sends daily text messages from the Saginaw County Health Department to COVID-19 positive cases identified in the Michigan Disease Surveillance System.
The text reads, "Message from mySaginawHealth: You have tested positive for COVID-19. You can avoid a call from the health department if you complete your health investigation online. Do this by visiting mysaginawhealth.org." 
The app directs users to a quick form, which they then fill out and submit. It includes a feature allowing them to request a return-to-work/school letter if required. 
Health department staff use the information provided online to "close out" COVID-19 cases, which is a required process for infectious diseases in Michigan.
Residents can also self-report before getting the text message. However, the health department cautions users NOT to report at-home antigen test results without a confirmatory PCR test.
mySaginawHealth allows users to input any close contacts they may have exposed to COVID-19 the 48 hours prior to the onset of their symptoms or positive COVID-19 test result.
Those identified as close contacts receive a text saying, "Message from mySaginawHealth: You've been exposed as a close contact to someone who has tested positive for COVID-19. Visit mysaginawhealth.org for clarification on whether or not you need to quarantine."
Close contacts using the app will be connected to information about whether or not they are exempt from quarantine and outlines the precautions they should take due to their exposure.
There are a few inherent challenges with the app -- including potential testing and timing issues for people looking for a return-to-work/school letter. Users requesting a letter may initially be denied a return-to-work/school letter because they aren't in the Michigan Disease Surveillance System yet because:
They took an at-home antigen test and didn't get a confirmatory PCR. 
Their positive PCR test results have not yet shown up in the system. 
In either case, the app helps by:
Instructing people to get confirmatory PCR tests after testing positive with an antigen test.
Instructing people that, if the letter denial is in error, they can scan and email test results to covid19@saginawcounty.org OR call our hotline at (989) 758-3828. 
We hope the process is easier and less intrusive online. Over the course of the pandemic, our staff have found a growing number of residents who are unresponsive and/or reluctant to talk with health department staff over the phone.

Health department staff should never be perceived as COVID-19 "enforcers" looking to get anyone in trouble for having or spreading COVID-19. On the contrary, our role has NEVER been about that. Our job as public health experts is to track and monitor disease spread while guiding and educating our community about next steps to minimize the spread. We're here to inform, support and help one another -- not punish or admonish anyone.

We initially created the app near the beginning of the pandemic but retooled it around this time last year to assist with vaccine scheduling. Since then, the periodic spike in positive cases has made keeping up with case investigations impossible. Now, with shorter isolation and quarantine times recommended by the CDC (5 days), rapid response is more important than ever so residents can take appropriate action. 

Please feel free to explore the app at mySaginawHealth.org.