Mental Health Resources
This is a difficult time for everyone. Take some time to take care of your mental health in addition to your physical health. We're in this together.
Reach out for support

Text SHARE to the Crisis Text Line at 741741
Even if you can't be together physically, let trusted people in your life know about your worries, fears, frustrations, AND plans for self-care.

Stay connected to your loved ones and community as we engage in social distancing to keep each other safe.

Call or video-chat family or friends. Science shows that hearing a loved one's voice comforts the brain.
Join virtual gatherings, like community meetings or free fitness classes and concerts.
Notice if you're not reaching out because of low mood rather than social distancing reasons.
Check in with someone you trust for a few minutes every day.

Routines help us feel more grounded when things feel out of our control.

Staying active with things that feel productive and fun can help us manage the extra stress and anxiety.
Make a schedule for how you'll structure today to balance work with time for self-care, relaxation, and (safe/virtual) social connection.

Limit information overload.

Set a time limit for focusing on coronavirus anxiety and plan mental health breaks to allow your body and mind time to recharge.
Get the information you need from the links below. Moderate other news intake and limit exposure to mass hysteria online.

Practice deep breathing exercises, mindfullness or other methods of meditation.

It's easy for our worries to get ahead of the current moment. As we face uncertainty it's important to stay grounded in the present.
Michiganders can access a specially-curated collection of guided meditations, at-home workouts that guide people through mindful exercises, sleep, and kids content to help address rising stress and anxiety. Find this and more for free at www.headspace.com/MI
To our Frontline Workers...
As a society we are undergoing a traumatic experience. We are in a collective state of uncertainty and tremendous loss. Many of us feel an overwhelming sense of helplessness.
As a frontline worker (hospital employee, first responder, healthcare professional) you are likely to be experiencing additional challenges during the COVID-19 pandemic such as concerns about your own health, your family's health, stigma from within your community, and managing the distress of people you support in your professional life.
Your duty to take care of others can place you at increased risk of getting sick and conflicts with your own safety. This is a stressor that other people may not fully understand. Fear and worry about your own health and the health of your loved ones add to the stress of being on the front lines of a pandemic.
With schools closed, families at home, and communities changing overnight, it's easy (and understandable) to feel overwhelmed. Not all children and teens respond to stress in the same way.
If you or any members of your immediate family are experiencing symptoms of extreme stress, such as trouble sleeping, problems with eating too much or too little, inability to carry out routine daily activities, or using drugs or alcohol to cope, call the Saginaw Community Care HUB at (989) 498-2266 to be linked to a mental health professional for free confidential counseling services and support between the hours of 8:30am – 4:30pm, Monday – Friday.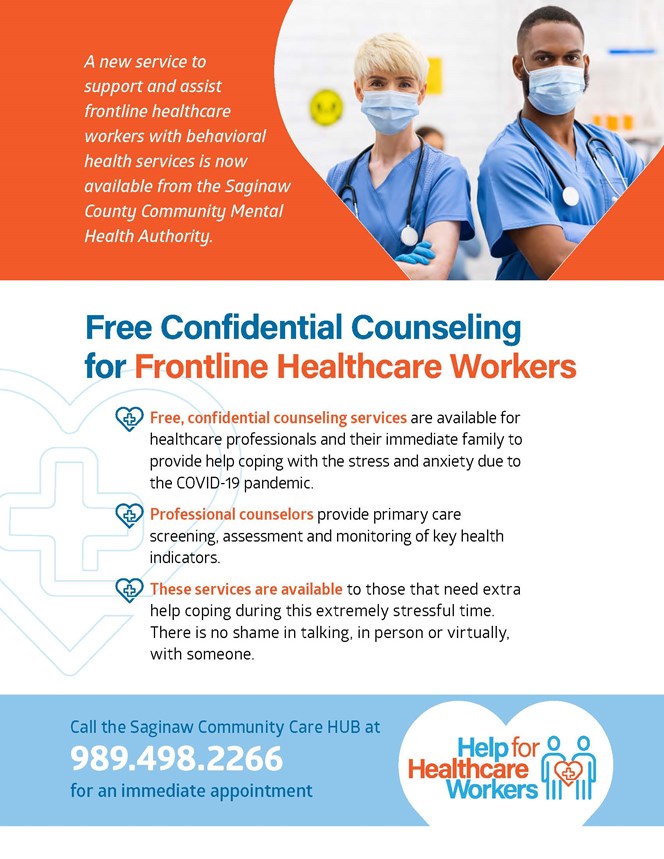 General Mental Health Resources